Rancho Cucamonga, CA All-on-4 Dental Implants

"I had been fighting periodontal disease for 25 years. After many different treatments and a lot of time and money spent, Dr. Stockdale provided a true solution. My "All-on-4" denture was the best option for me and has eliminated the disease in those areas.
Dr. Stockdale's expertise with Implants and attention to detail with the high-tech materials of these dentures have been outstanding. He even opened the office and helped me on a Sunday when one of my temporary dentures broke. He and his staff really showed that they care about their patients and the success of the procedure. As for the final results, I absolutely love my new teeth! I can eat anything I want and I don't have the hassle of taking my denture in and out. Thank you, Dr. Stockdale.
George B. Wheelan
Corona, CA"
"We use Nobel Biocare Implants and Components Exclusively. Nobel Biocare is a Worldwide Leader in Implant Technology and the Primary Developer of the All-on-4 Technique."
All-on-4
(Implant Supported Hybrid Dentures)
If you have lost an entire arch of teeth (top and/or bottom), or are soon to have your remaining teeth removed because they are too unhealthy to save, you may be able to replace them with Implant-Supported Hybrid Dentures. Doctors and patients alike prefer fixed over removable dentures because they:
Looks, Feels, and Functions just like Natural Teeth

No Slipping...Eat, Speak, and Smile Naturally!

Prevents Bone Loss in the Jaw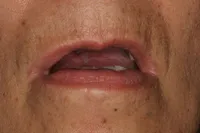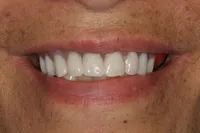 How It Works
Dental implants serve the same purpose as the roots of natural teeth: anchoring the replacement teeth to your jawbone. Just like natural tooth roots, they lie under the gum line and therefore are not visible in the mouth. Only the lifelike prosthetic teeth attached to them (Implant Supported Hybrid Denture) can be seen by you or anyone else. Because we use Nobel Biocare Implants and components exclusively, a worldwide leader in Implant technology, and the primary developer of the All-on-4 technique, they are extremely stable and beyond reliable.
Each individual has unique conditions: Depending on the volume and density of the bone in your jaw. Dr. Stockdale will determine and discuss what is best for your new teeth to function as well as a set of healthy, natural teeth.
*Also Serving North Cucamonga, CA & Rochester, CA*
All Procedures are Performed by Dr. Stockdale at the Renaissance Dental Care office for Your Greatest Comfort & Convenience. Call (909) 987-0040 today!